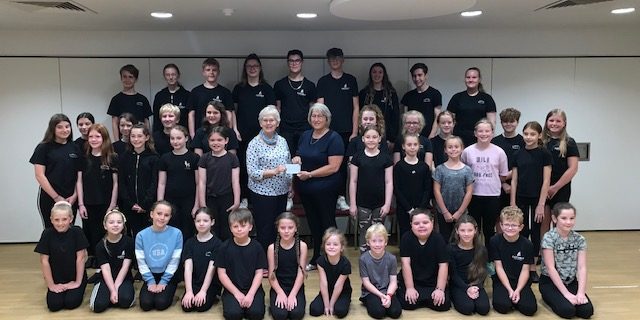 The Castaway Theatre Group has donated £500 to the YCAA following its highly successful production of 'School of Rock.
YCAA's Liz Pike and Sally Field were delighted to receive the cheque during a visit to rehearsals for the group's next shows.
Liz Pike said "We're so grateful to these talented young performers and their energetic coaching team – Lynn, Tammie, Andrea, Kirsty and Linda.  They all work so hard and give outstanding performances.  Even the rehearsal was full of happy enthusiasm and energy!  We're very grateful for the donation, which will be used to support the arts and talented young people in their creative training and theatre studies."
Castaways are currently working on two highly-anticipated new productions.  'The Adoption' will be staged at the Swan Theatre, Yeovil, in early October, followed by 'Elf' at Digby Hall, Sherborne, in December.  For more information, visit the Castaway Theatre Group website.