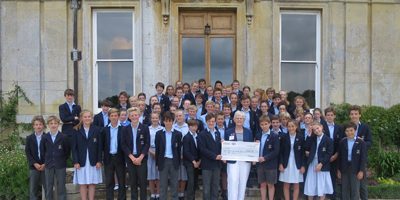 Year 8 children at Hazlegrove Prep School have raised over £320 for the YCAA.
The Year 8 children were putting on their annual production and, as in previous years, they produced and sold merchandise from their production. This year, they kindly chose to give the profits from the sales to YCAA.
We are very grateful to the children of Hazlegrove Prep School for choosing to raise money for the YCAA, and we promise to use it to benefit talented young people on their journey to fulfilling their dreams in the world of the arts. The YCAA is a charity dedicated to bringing 'the arts' to as many local people as possible. Our main source of revenue is earned by the Yeovil Literary Prize and all profit is ploughed back into the community by bringing excellent speakers to our audiences, and, our main objective, to give grants to young people leaving the area to study the arts. There is often a need by local families with talented children for help with tuition fees. We help. Run by volunteers, this charity is now highly esteemed in the literary world, and in our community. We are also partners in the Yeovil Literary Festival.
Thank you Year 8 for all your efforts. Keep smiling!
For more information about Hazlegrove Prep School, Yeovil Literary Prize, YCAA events or the Yeovil Literary Festival, follow the links!