The YCAA is now looking to expand its membership so that we can really build a cultural community in Yeovil. A larger membership will also allow a greater diversification, and more opportunities for a cross-fertilisation of inspiring ideas.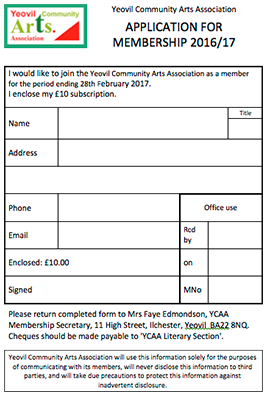 We will be planning special events for members only, as well as allowing priority booking on popular events such as our literary dinner in September 2016. We will also be negotiating discounts for members at local venues.
If you would like to join the YCAA and help in our endeavours while enjoying a few little privileges along the way, then please fill in the form opposite.
For more information about joining us, email lizzie.pike@btinternet.com or faye@fayepaints.co.uk.
Click to Download Application Form